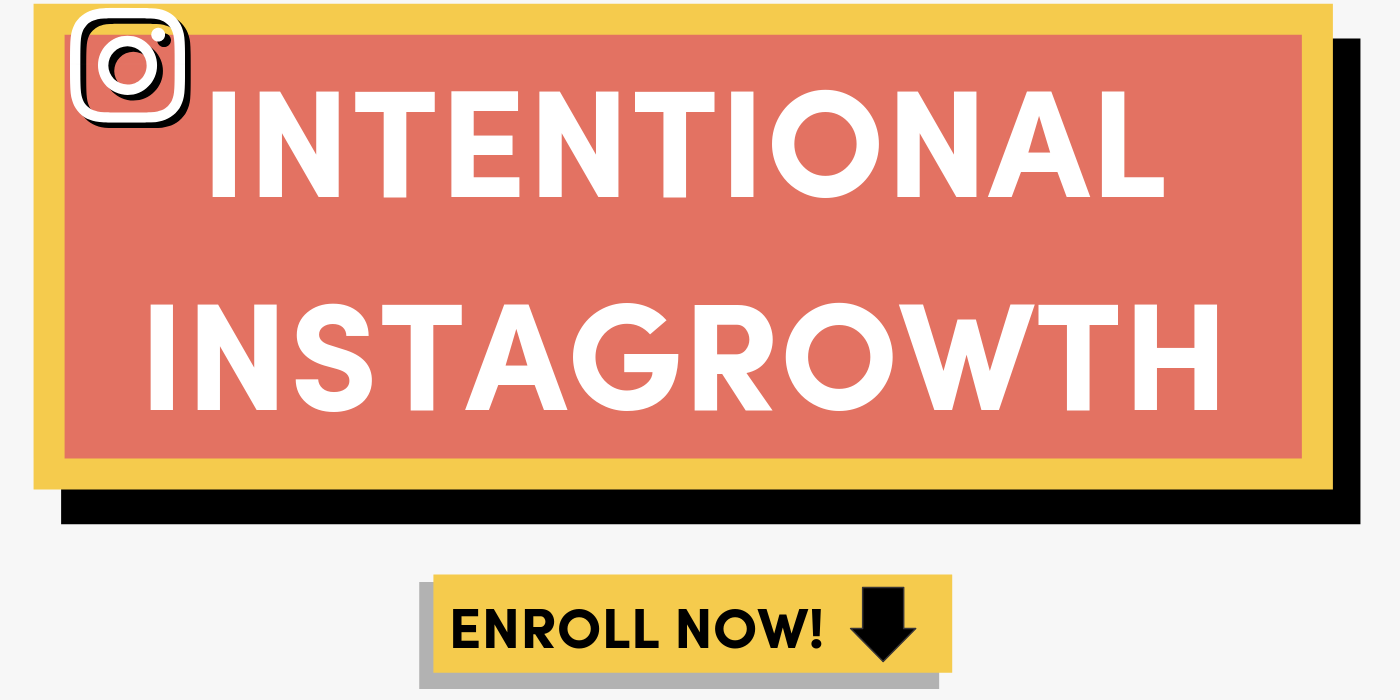 What if your Instagram attracted a ton of engaged fans, increased your income, drove email sign ups, and gave you the time and independence to focus on the things that matter most to you?
What if I told you that you could achieve all of this WITHOUT double-digit followers?
Here's the thing...YOU CAN!
This course is closed for enrollment.
DOES ANY OF THIS SOUND FAMILIAR?
You've been on Instagram for a while but you just don't know how to reach your target audience.
You spend HOURS each day/week on Instagram, without seeing any tangible change in growth or engagement.
You feel like the algorithm is working against you.
You're spending time creating the perfect content, but still get very little engagement.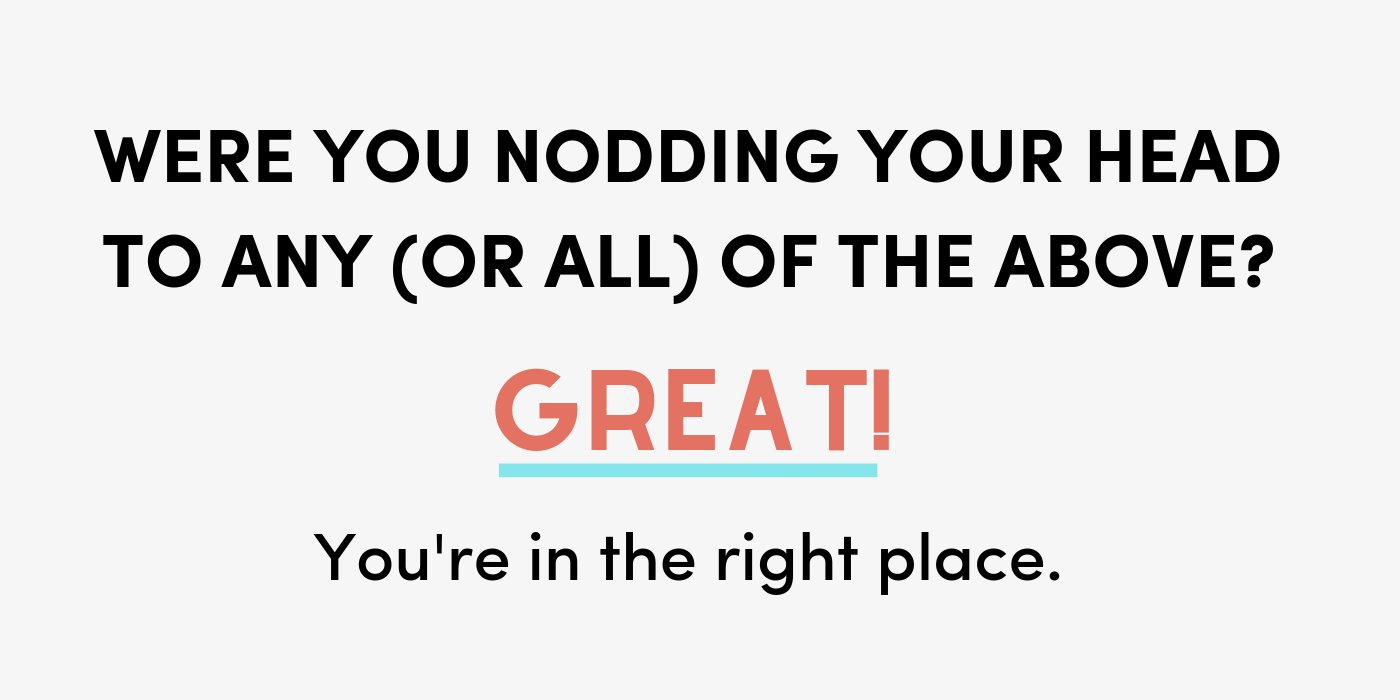 WHAT IF I TOLD YOU THAT YOU COULD...

👍 Improve your engagement on Instagram in just 20 MINUTES A DAY.
👍 Spend LESS time on creating pretty pictures and MORE time on building relationships with loyal fans and customers.
👍 Use Instagram Stories to build your authority and improve your sales.
👍 Grow your Instagram posting just 2-3x a week.
👍 Get people into your DMs and onto your email list (without needing 10k followers!).
👍 Make Instagram work for your and your business without a double-digit following.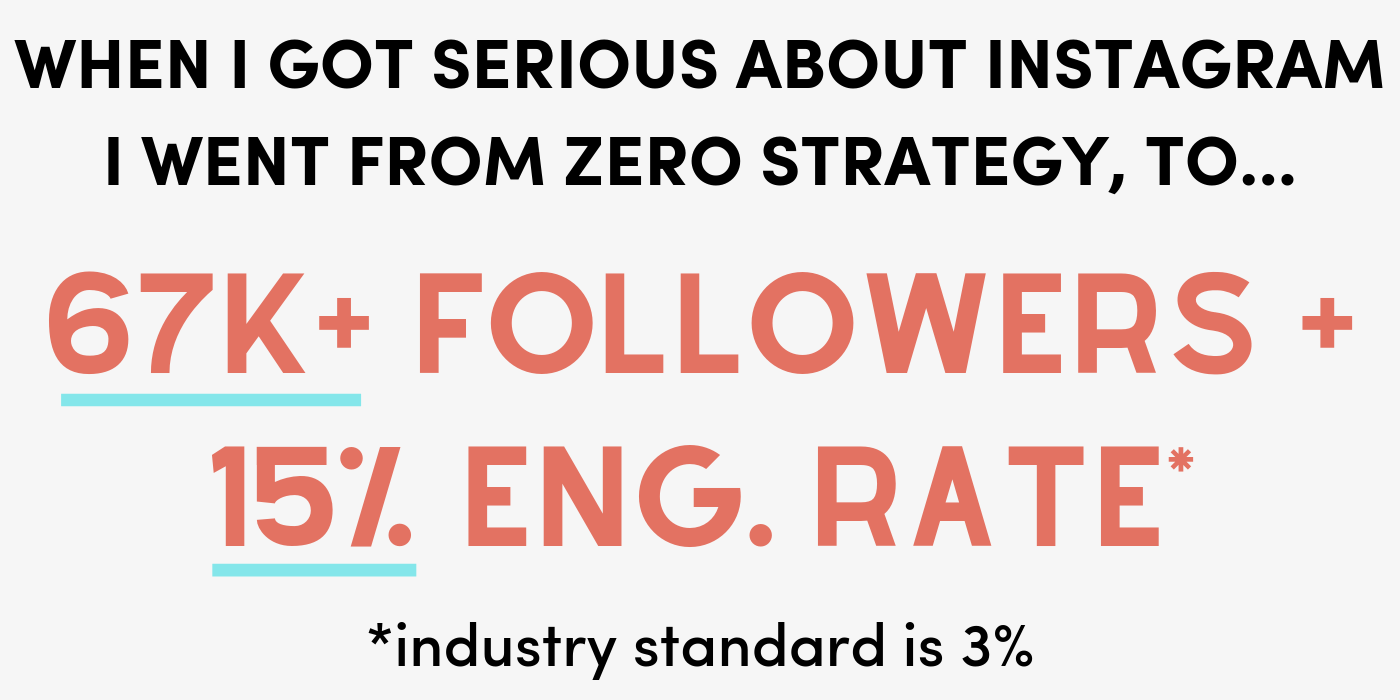 LET ME SHOW YOU HOW I GOT THERE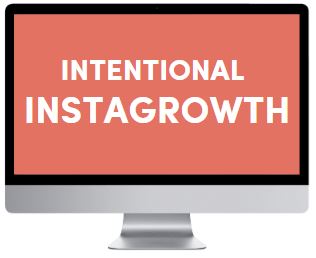 Intentional Instagrowth is my step-by-step course and community where I'll teach you how to grow an engaged and inspired Instagram audience *without* spending hours a day on the platform. The course is designed to help you re-prioritise your time, so you can focus on what matters in 2019, and stop wasting time ineffectively chasing followers.
HERE'S THE THING...
There are lots of Instagram experts out there who will promise you big follower growth.
I'm not going to do that.
Because the secret to success on Instagram ISN'T huge follower numbers.
The secret is ENGAGEMENT. The secret is building relationships with your ideal followers, and turning them into raving fans and customers.
That doesn't happen overnight.
It takes commitment and a different mindset.
If you are willing to do the work, this course will arm you with the strategies you need to succeed.

✅ MORE of the right kind of followers on Instagram
✅ MORE customers, clients, and sales
✅ And MORE people who love you, what you do, and tell the world about you

Attract your dream customers and clients
Build a community of raving fans who love your business
Create amazing content with confidence and ease because you know it'll convert
Finally understand how to use Instagram for your business/brand
SIGN UP NOW FOR INSTANT ACCESS
👇👇👇

This course is closed for enrollment.
SO, WHAT'S INCLUDED IN THE COURSE?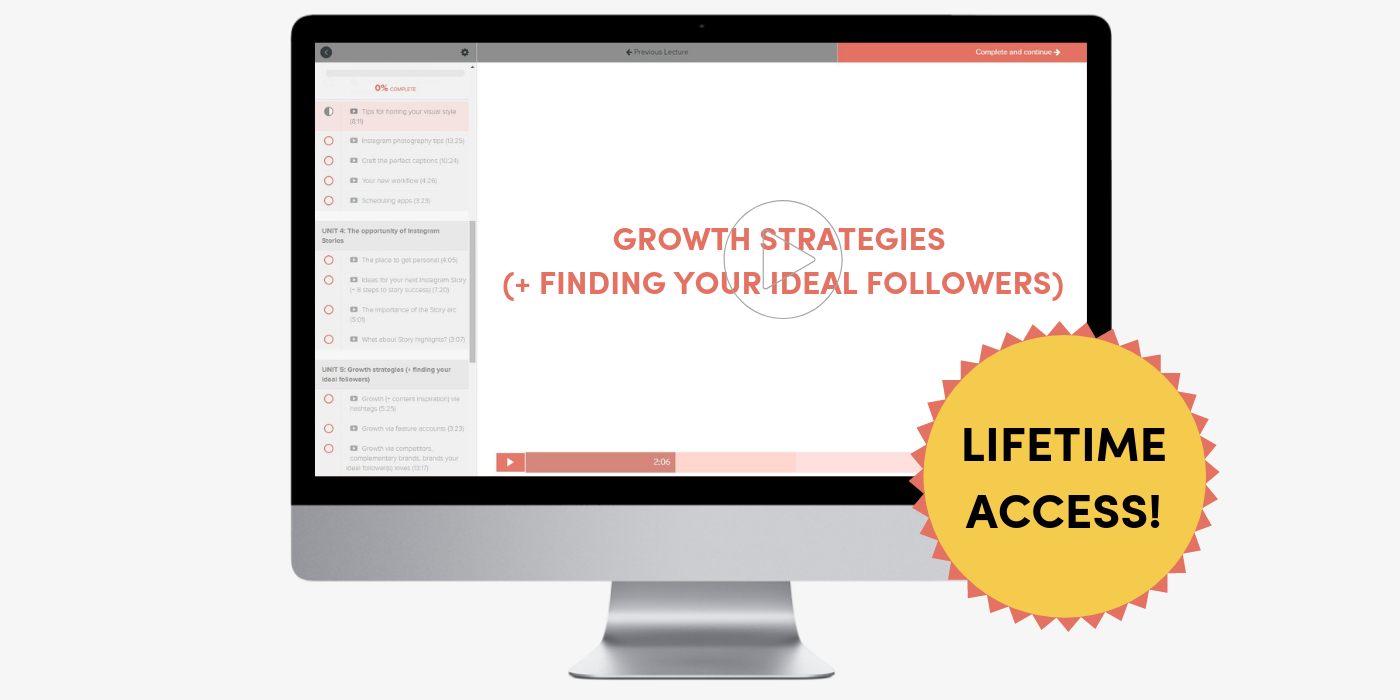 LIFETIME ACCESS TO ALL 7 MODULES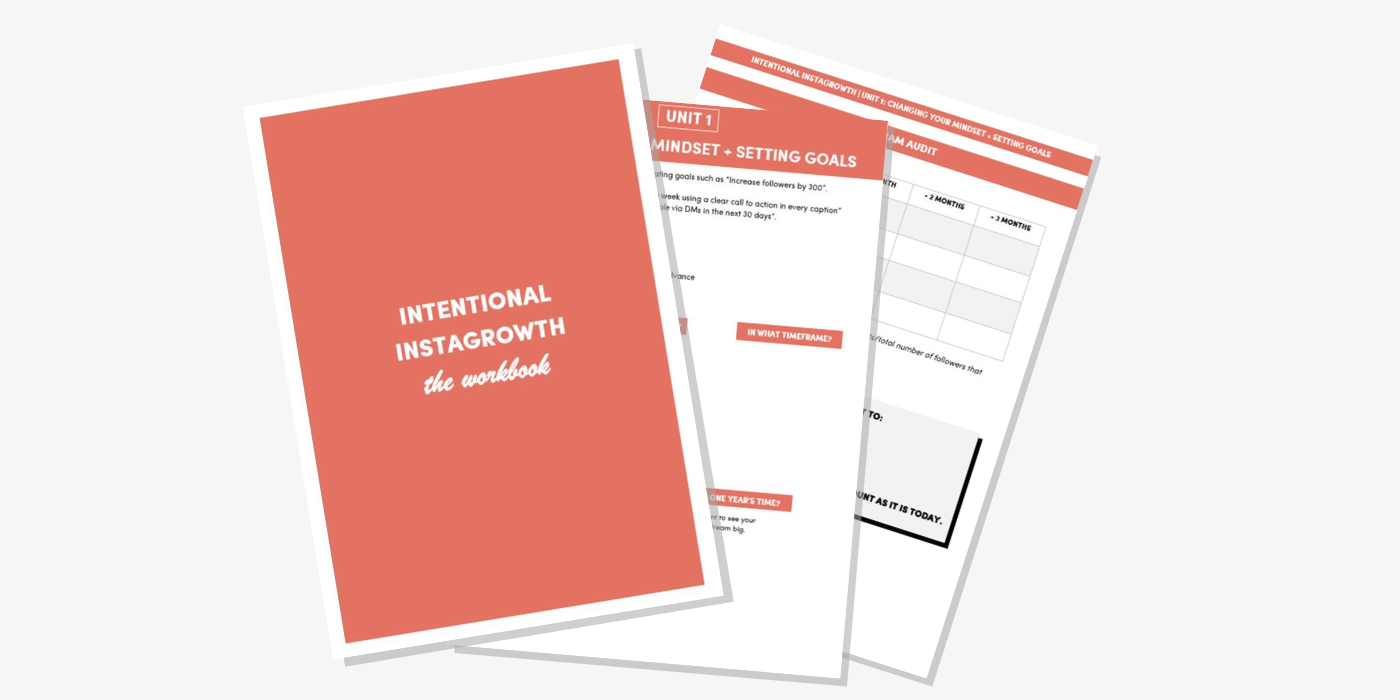 ACTIONABLE COURSE WORKBOOK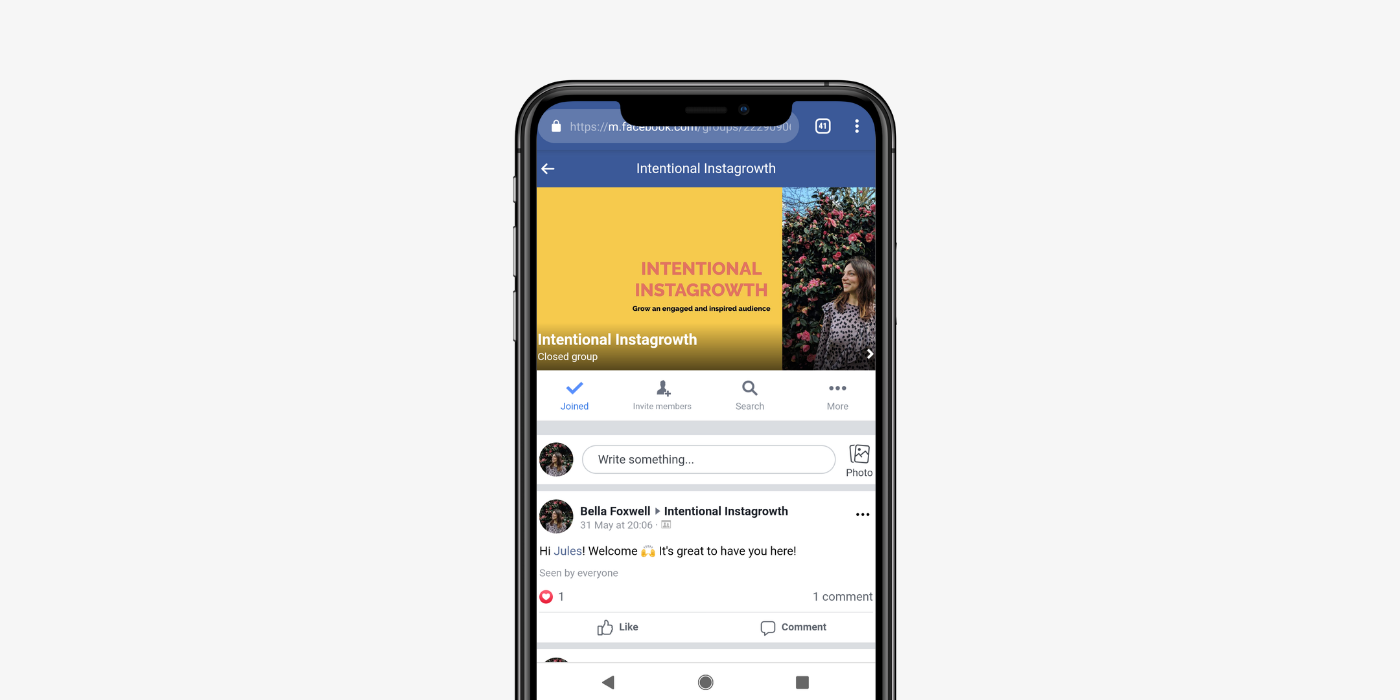 SUPPORT + FEEDBACK IN OUR PRIVATE FACEBOOK GROUP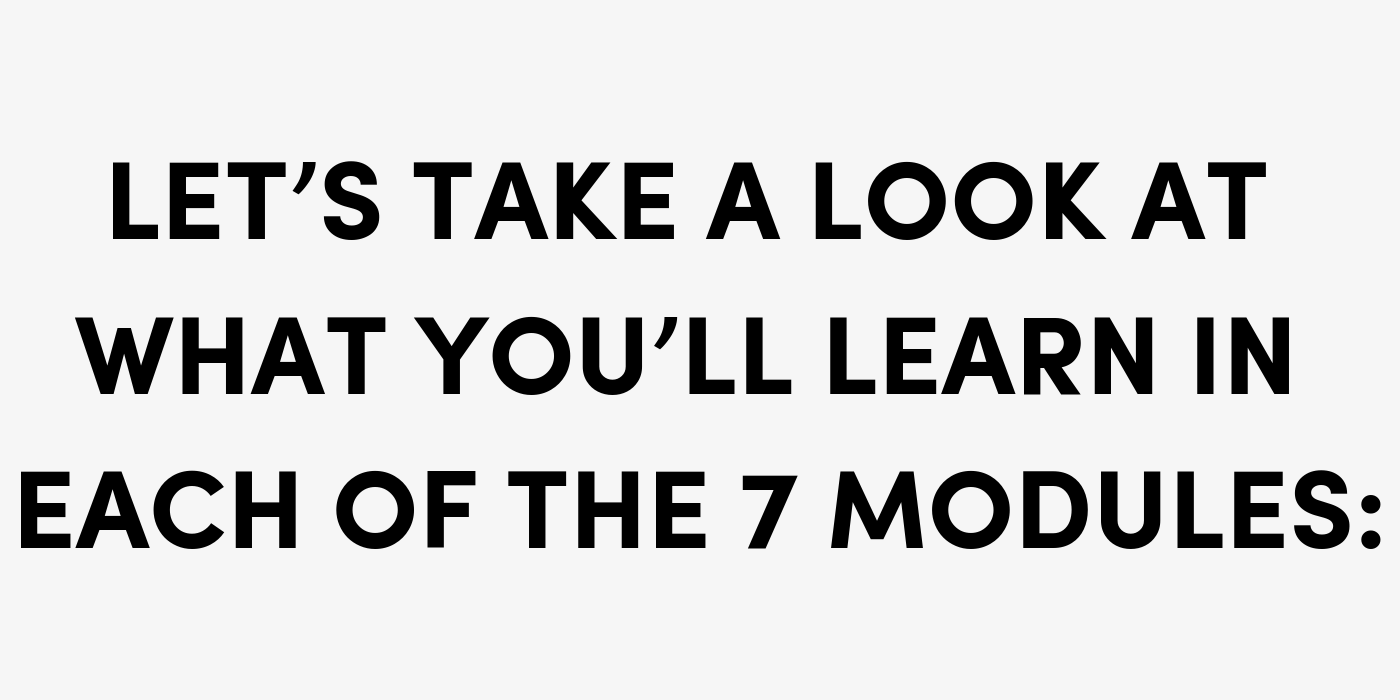 CHANGING YOUR MINDSET + SETTING YOUR GOALS
A huge part of finding success on Instagram is about shifting your mindset. In this module, you will realign your priorities, get clarity on what the heck the algorithm is looking for, and set yourself actionable goals.
SETTING YOURSELF UP FOR SUCCESS
Learn how to define your "ideal follower" and get clarity on your brand so you can start attracting the right audience and stand out from the competition.
YOUR NEW CONTENT APPROACH
A bumper module that will change the way you approach your main-feed content, give you clarity on what your "niche" should be, and get you to a place where you're NO LONGER STRESSING about what to post on Instagram!
THE OPPORTUNITY OF INSTAGRAM STORIES
I'll talk to you about the importance of getting personal on Instagram Stories and how you can create the perfect Story every time with my 8-step process.
GROWTH STRATEGIES (+ FINDING YOUR IDEAL FOLLOWERS)
Understand how to proactively grow your Instagram and find your ideal followers in just 20 minutes a day.
OPTIMISING YOUR INSTAGRAM FOR BUSINESS
Once you start growing your audience of ideal followers, you want to convert them! I will walk you through the Instagram funnel, a proactive DM sales strategy, and the importance of an email list.
TRACKING YOUR PROGRESS
Learn how to interpret your Instagram insights so you can make the right tweaks to see even more growth.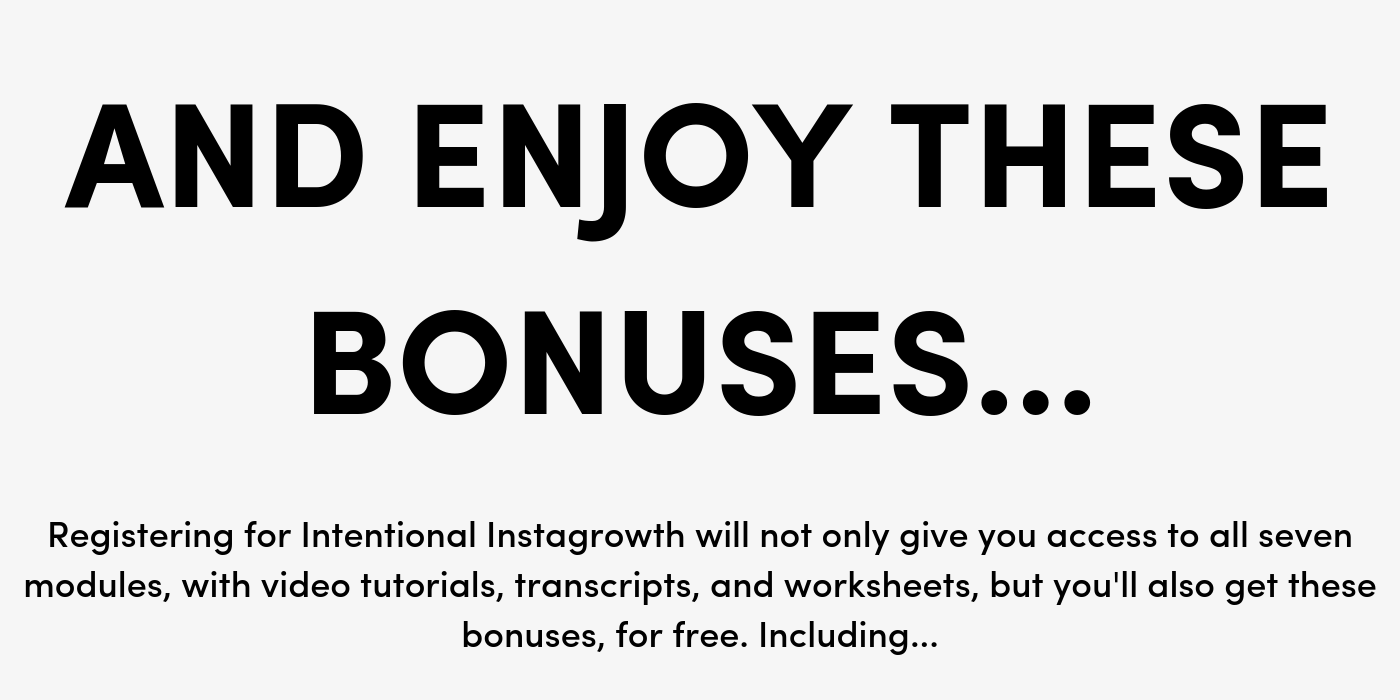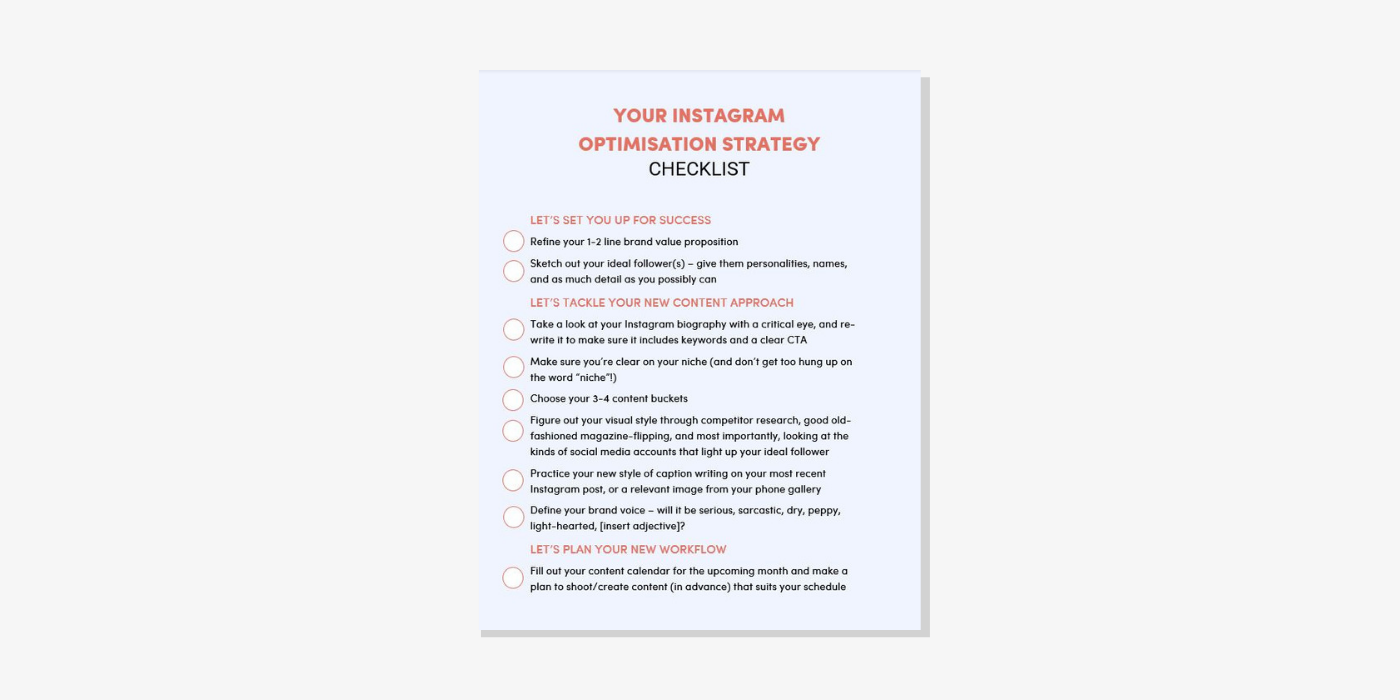 YOUR INSTAGRAM OPTIMISATION STRATEGY CHECKLIST
As well as the workbook, this 2-page checklist will help keep you on track and make sure you're taking actionable steps towards success.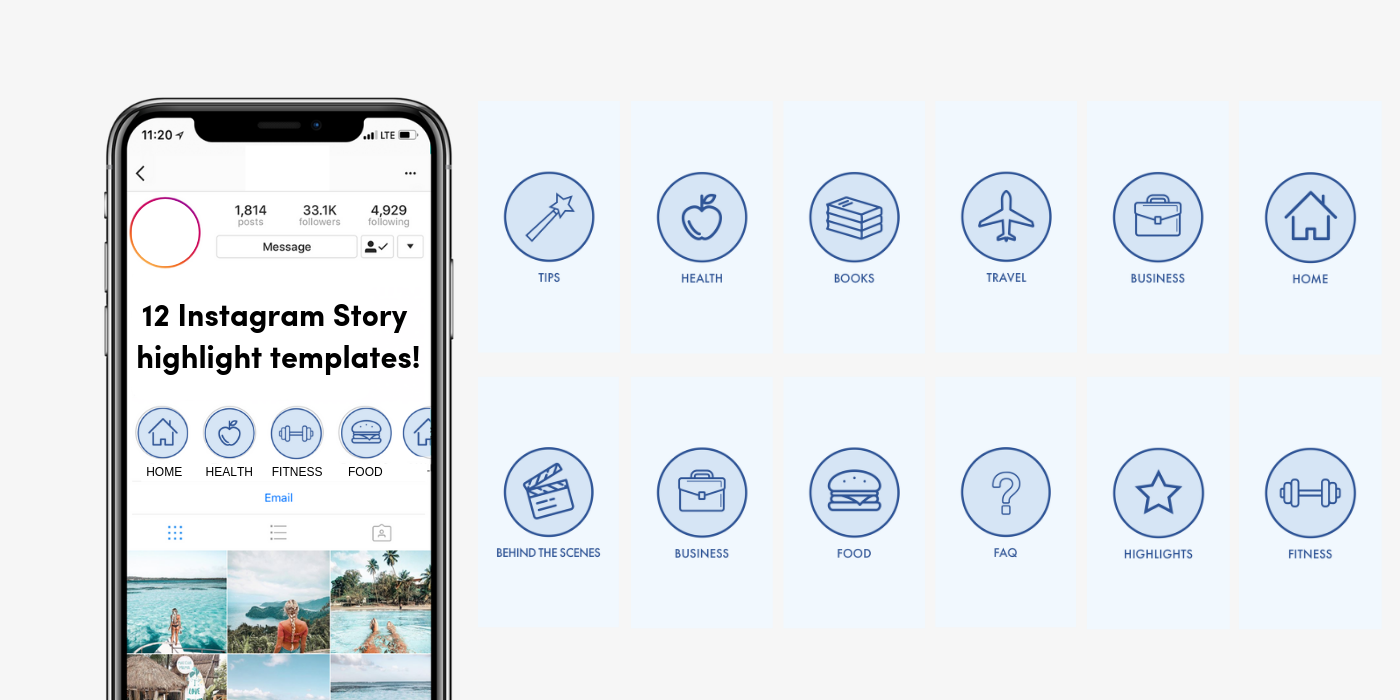 12 INSTAGRAM STORY HIGHLIGHT COVER TEMPLATES
I hired a designer to create simple, eye-catching Story highlight cover templates (saved as both .psd and .png files), which you can tweak or use as they are!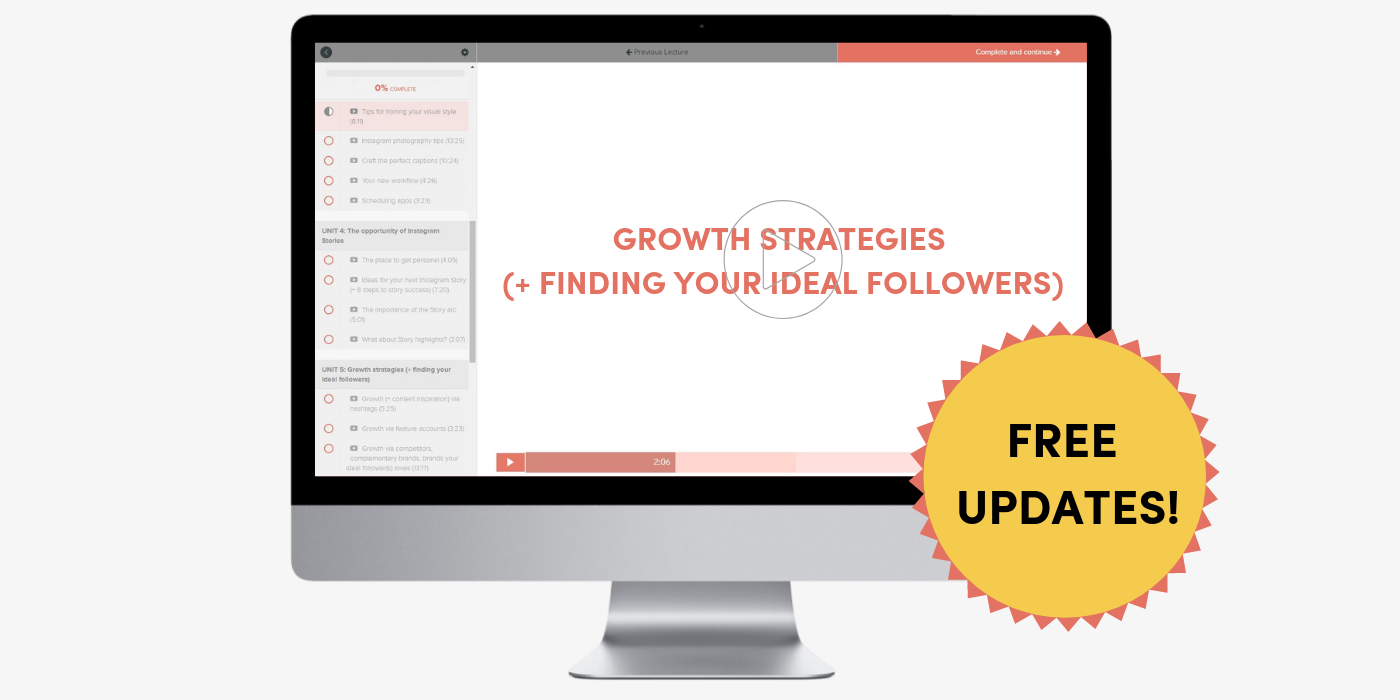 LIFETIME ACCESS + FREE UPDATES TO THE COURSE
I regularly check the course to see if there's anything I can add or improve. You will always have access to the most up-to-date information and strategies.

WHO AM I?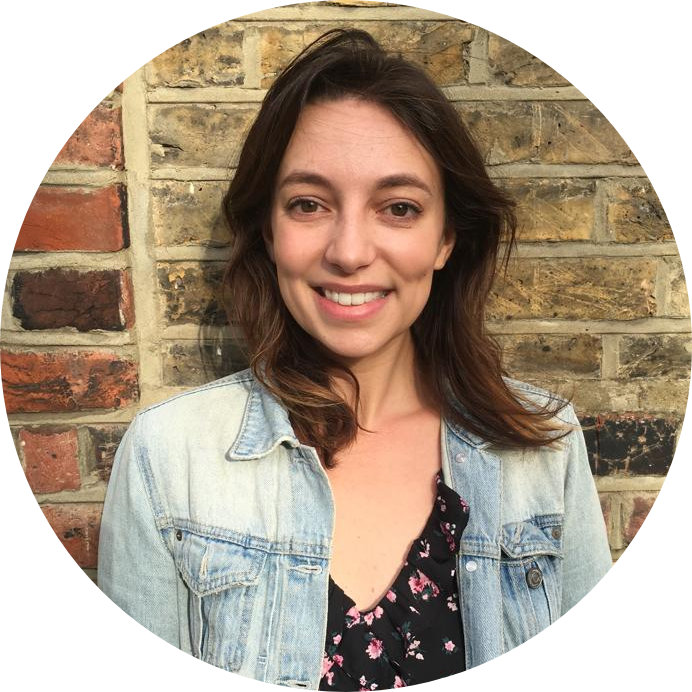 I started my love affair with Instagram five years ago when I was tasked with building Canon UK's Instagram account from scratch. In nine months, we hit 100k followers and my strategies were rolled out across Europe.
Since then, I've continued to consult on Instagram strategy, and grown my own niche Instagram account to almost 70k followers in less than three years. Now, I'm so excited to share everything I've learnt with you in my first course.
WHO IS INTENTIONAL INSTAGROWTH FOR?
Total Instagram newbies AND long-term Instagram users. If you want to grow your engagement and connect with your target audience, this course is for you.
People that want to lead a tribe. You're ready for strategies that actually help you build a thriving community, *without* spending a penny on advertising.
People with full-time jobs that are side-hustling to make their dreams come true. You want to learn the strategies to grow your audience WITHOUT spending hours on Instagram each day.
Businesses, brands, influencers, solopreneurs that want to grow their reputation and brand/business meaningfully in 2019.
WHO IS INTENTIONAL INSTAGROWTH NOT FOR?
People that want to get followers fast. This program isn't for people who think that buying a course will suddenly help them grow 5, 10, 15k followers.
People that think there's a simple solution to growing on Instagram. Ah, how I wish there was! You have to put in the work to see results.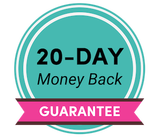 Intentional Instagrowth combines my very best Instagram strategies to help you grow your engagement and build your community, on autopilot. No more second guessing, or hours spent on the platform. Your satisfaction is important to me, which is why I offer a 20-day refund period.
This course is closed for enrollment.
Course Curriculum
START HERE!
Available in days
days after you enroll
UNIT 1: Changing your mindset + setting goals
Available in days
days after you enroll
UNIT 2: Setting yourself up for success
Available in days
days after you enroll
Frequently Asked Questions
Do you offer any refunds or guarantees?
Yes! Your satisfaction is important to me, which is why I offer a 20-day refund period.
How long do I have access to the course?
Forever! Register for Intentional Instagrowth once, and you'll have lifetime access to the course, which will continuously be updated with any new strategies, videos, and materials.
What format is the course delivered in?
The course materials are shared as video content, transcripts, and a course workbook. So, whether you prefer to read, write, watch, or listen to the content, you'll be covered.
Could I just find this information for free online?
You can find just about anything online these days, but does that mean it's valuable? One of the reasons I created this course is because there is SO much information out there, much of which is incorrect and promising unrealistic results. As you might know, Instagram is *constantly* changing, which means that much of the information online becomes outdated quickly. Intentional Instagrowth will always be updated with the latest strategies, so you never have to worry about being fed information that doesn't work.
This course is closed for enrollment.